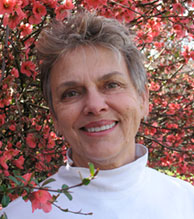 Joan Giannecchini is a mixed media and conceptual artist whose work has appeared in galleries and museums throughout the United States and in Africa. Born in San Francisco, CA in 1943, she received her B.S. in Art and Science from State University New York, and an M.A. in Environmental Studies from New York University.
She was a co-founder of Dentures Art Club in Soho (New York), an arts organization dedicated to bringing artists and non-artists together to stage performances and "happenings" on socially relevant themes in galleries and public spaces. In this capacity she has performed in New York City venues including The New York Feminist Institute and Soho Repertory Theater. Her collaborative piece on role and romance in 1950's America, "Charms," was staged at The Franklin Furnace and dinner theatre venues in New York City. Publicly, her installations include work in Central Park and the New York City subways.
Joan has written and published on environmental matters as well. Her presentation, "Ecotourism, New Partners, New Relationships," at the 1992 IUCN (International Union for Conservation of Nature) Conference in Caracas, Venezuela was published in the June, 1993 issue of Conservation Biology and later reprinted in "The Social Dimension – Reading from Conservation Biology."
She has received Fellowships to Blue Mountain Center for the Arts (three times) and been the recipient of a $10,000 grant from Small Business for Nuclear Disarmament for her participatory art extravaganza, "Say Goodbye to Nuclear Weapons" at the June 12th, 1981 anti-nuclear rally in Central Park. She received successive grants from the Ara Institute. She has traveled widely, visiting more than 70 countries, Land Rovered and camped for six months across eastern and southern Africa, and has lived in Harare, Zimbabwe, Mexico and Europe.
She currently splits her time between her farmhouse in northern California and a 50' singlewide trailer in the high desert in Tuscarora, Nevada, where she jockeys for space with her husband, the playwright Stan Kaplan, and her two dogs, Miss Pickles of the Bushveld and Talullah, the "Dennis the Menace" of English Staffy Bull terriers.


The community of Tuscarora, Nevada,
featuring Joan Giannecchini's 1964
trailer; Photograph, Stan Kaplan