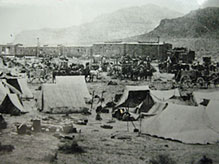 "The Celestials" is a series of three-dimensional art pieces designed to recall the Chinese immigrant experience in the Old American West. This project was conceived in Tuscarora, a mining town founded around 1872 in the high desert of northeastern Nevada. Its purpose is to draw attention to the forgotten lives of many 19th and 20th century Chinese who contributed so much to the American tapestry.
As I began investigating the Chinese community in the Elko-Tuscarora area I discovered that despite their large numbers there remained almost no physical or archeological evidence of their presence. Even their bones had been dug up and sent back to China by their descendents. It struck me as sad, these empty gravesites, holes signifying a gap in our collective memory, an enormous presence literally disappeared from our national story.
I have searched out archival and vintage photographs of Chinese immigrants from gold and silver mining areas in California and Nevada and reproduced them digitally. The buildings, landscapes and artifacts themselves, as depicted in these pieces, still exist and were photographed as they appear now.
The images are computer manipulated then printed on transparent or translucent materials such as vellum, silk and acetate, some of which are embellished by watercolor and acrylic painting. Each individual image is installed layer by layer in a frame 3-4" deep. Auxiliary lighting is applied from the rear to create a multi-dimensional panorama, a single optical image, ethereal and fragile, a visual memento of these long vanished Chinese in their harsh desert environment.
Found materials such as old metal scraps (kerosene tins, rusty barrels, abandoned mining machinery) or wood from abandoned buildings unearthed in and around the various mining and ghost towns have been hand-cut, welded, and fashioned into frames for each piece. The frames are sealed front and back with glass and Plexiglas. Each piece is meant to be free standing and individually lit.


Chinese Immigrant, original image for "Home, Family, Sorrow"; Photograph courtesy of Northeastern Nevada Museum